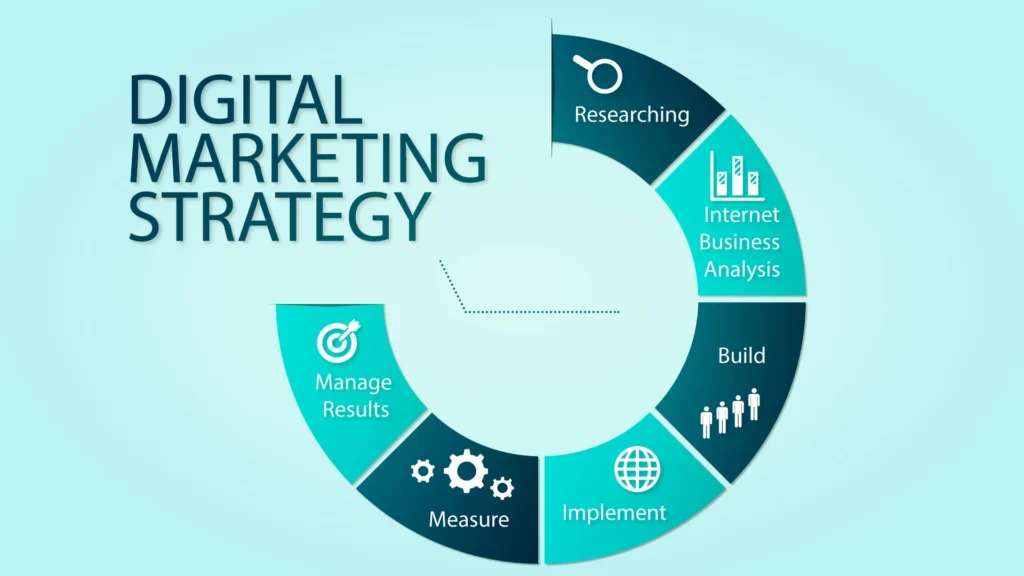 DIGITAL MARKETING STRATEGY DEFINATION:
A digital marketing strategy is a plan for using online channels such as social media, email, search engines, and websites to promote a business or product. It typically includes goals, target audience, tactics, budget, and metrics for measuring success. A successful digital marketing strategy should be data-driven, flexible, and optimized for user experience.
IMPORTANCE OF DIGITAL MARKETING STRATEGY:
A digital marketing strategy is essential for businesses of all sizes because it helps to:
Reach a wider audience: Digital marketing allows businesses to reach people globally and expand their customer base.
Increase brand awareness: By creating and sharing content on various platforms, businesses can increase their visibility and build brand recognition.
Generate leads and sales: A well-designed digital marketing strategy can help businesses to drive traffic to their website, generate leads, and convert them into sales.
Analyze and improve performance: With the help of analytics tools, businesses can track the effectiveness of their digital marketing efforts and make data-driven decisions to improve their performance.
Stay competitive: In today's digital world, having a strong online presence is critical to staying competitive and relevant in the market.
Overall, a digital marketing strategy is a vital tool for businesses looking to succeed in the digital landscape and achieve their marketing goals
STEPS TO CREATE DIGITAL MARKETING STRATEGY:
Creating a digital marketing strategy involves the following steps:
Define your goals: Determine what you want to achieve with your digital marketing efforts, such as increasing website traffic, generating leads, improving conversion rates, or building brand awareness.
Identify your target audience: Determine who your target audience is, their demographics, behavior, interests, and pain points.
Conduct a competitive analysis: Research your competitors' digital marketing strategies, strengths, and weaknesses to gain insights and find opportunities to differentiate your business.
Develop your messaging: Craft your brand message and value proposition that resonates with your target audience and aligns with your business goals.
Choose your digital marketing channels: Based on your target audience and business goals, select the most relevant channels, such as social media, email, search engines, content marketing, or influencer marketing.
Set a budget: Determine how much money you are willing to spend on your digital marketing efforts and allocate it to the different channels and tactics.
Create a content plan: Plan and create high-quality and relevant content for your chosen channels, such as blog posts, social media updates, email newsletters, or videos.
Implement and optimize: Launch your digital marketing campaigns, track your performance metrics, and optimize your tactics and strategies based on the data.
Continuously measure and improve: Continuously monitor and measure your digital marketing performance, analyze the data, and make data-driven decisions to improve your campaigns' effectiveness.
Creating a digital marketing strategy is an iterative process that requires constant refinement and adaptation to changes in the market and consumer behavior.